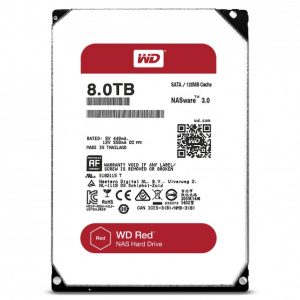 8TB WD Red and RedPro drives are now available in the dropdowns on all eRacks NAS Systems, and are available on select other eRacks systems, and of course all eRacks systems by custom quote –
If you don't see it on the system you want, just ask & we'll quote you!
j
joe December 3rd, 2016
Posted In: Backups, NAS24, NAS36, NAS50, NAS72, servers
Tags: Capacity, Drives, NAS, Storage, WD
Many of you may know this already, but:
We build all our systems to order, and
We only use factory fresh, new components in our new systems.
This may seem like an obvious thing to say, but it still needs to be said.
Why?
About 4-5 times a week, we get emails like the one at the end of this page –
Offering "Clean pull" components for low prices in large lots – At best, these would be considered "Refurb" components, but are really just plain used.  They have a much shorter (or no) warranty period than new components – they're also often factory seconds or grey market parts, sold sideways to dodgy suppliers so that they can build systems cheaper.
We do not use these suppliers.
So again, we always use 100% new and factory-fresh components in our new-system builds – (on occasion we sell our B-Stock systems, which are clearly marked as such, and what they are – reconditioned, etc).
Some of the additional ways it is possible to cut corners on building and assembling IT equipment, in addition to used or refurbished parts, is to use factory lot-ends, factory seconds, factory defects with a "Workaroundable" defect – this is how Dell got their start – they would buy large lots of, say, NIC cards (This was before motherboards came with them onboard!), with a known defect, and write (and pre-install) the Windows driver for it – almost always unbeknownst to the end-user, or disclaimed in fine print in the EULA that the customer is forced to accept.
In this market, with plenty of storage servers, with large numbers of 3.5″ hard disk drives, this is especially tempting for some box-builders to use components such as these – again, we do not do this, and *always* purchase new parts only, from reputable, nationally-known suppliers of components and computer parts for our servers, especially such as hard disks, etc.
We consistently see product out there in the marketplace which is built with these dodgy components, and have many times been asked by our new customers to help them bring these products up to spec with new parts, and re-test and burn-in to ensure reliability and a fighting chance at a full product lifetime.
Best,
Joe
Joseph Wolff
Founder and CTO
eRacks Open Source Systems
Here is the example email:
Clean Pull HDD offer ( Lot# ST4815)
90 days warranty
Payment Bank wire only
EXW- CA USA

Seagate ST3120025ACE 120GB IDE 3.5" Qty 820 pcs take all deal @ 5.00 each
Seagate ST3120026AS 120GB 7200RPM SATA 3.5" Qty 1700 pcs  MOQ 500 pcs + @ $ 9.00 each
Seagate ST3320310CS 320GB SATA 3.5" Qty 2400 pcs MOQ 1000 pcs + @ $ 13.50 each
Seagate ST3320311CS 320GB SATA 3.5" Qty 1400 pcs MOQ 1000 pcs + @ $ 13.50 each
WD WD2500AAVS 250GB SATA 3.5" Qty 4000 pcs  MOQ 1000 pcs + @ $ 12.00 each
WD WD3200AAJS 320GB SATA 3.5" Qty 4500 pcs MOQ 1000 pcs + @ $ 14.00 each
WD WD2500AAVS 250GB SATA 3.5" Qty 4700 pcs MOQ 1000 pcs + @ $ 12.00 each


Axxxxx

Global XXX Enterprises,INC909-360-9993email: axxxx@xxxenterprises.net
email: xxxenterprisesusa@gmail.com
Walnut, CA 91789 USA
www.enterprises.net

Call/Email to us for large qty discount .

AGS  WTS /WTB  :
We carry a wide range of products. Please contact us for your other requirements........
Hard drive ( Pull/refurb/New) , CPU ( Pull/New), Laptop/Tablets ( Refurbished/New)
Memory, Monitors,Keyborad , Mice ,Networking Products ,Printer,  ETC


joe November 15th, 2015
Posted In: Backups, New products, servers, Storage
Tags: Archive Drives, HDD, New products
Have you ever needed to backup the contents of one or more filesystems to another machine, yet you only had a single hard drive in the machine being backed up and found that you lacked the temporary disk space necessary to create your backup before shuttling it across the network to its final destination?
As an example, when I backup my laptop, I have too many gigabytes of data to realistically store my data on DVD-R's, and my only option is to create a tarball of the root filesystem and store it on another machine on my network. The problem is that if I try to create a backup of my laptop's contents, I find that the resulting tarball backup is too large to fit on the hard drive along with all the data.
One solution that I've found to this problem is to avoid storing the backup on the source machine altogether. Through stdin and stdout, along with the magic of *NIX pipes, we can stream the data in realtime over to its destination, and only then write it to disk.
Before we begin, it is very important to note that in most situations, you'll have to boot into another environment and manually mount your partition before proceeding, particularly when dealing with an operating system's root filesystem. Otherwise, not only will tar choke on certain directories like /proc and /dev, the contents of the disk will also continue to change as the backup is being made, leading to inconsistencies between the data on your filesystem and the data in the backup.
With that in mind, assuming that you have ssh installed and configured correctly on both the source and destination computers, you can create a backup with the following commands (as root):
#cd /path/to/your/mounted/filesystem
#tar -jcvp | ssh username@destination "cat > /path/to/backup.tar.bz2"
If you prefer to use gzip as opposed to bzip2, replace the above tar command with the following:
#tar -zcvp | ssh username@destination "cat > /path/to/backup.tar.gz"
Now, let's say that you've created a new partition and want to restore a previous backup. Again, assuming that ssh is configured properly on the source and the destination machines, and assuming that you've mounted your partition, you would recover your backup with the following commands (again, as root):
#cd /path/to/your/mounted/filesystem
#ssh username@destination "cat /path/to/backup.tar.bz2" | tar -jvxp
If the backup is a gzipped archive, then replace the above tar command with the following:
#ssh username@destination "cat /path/to/backup.tar.gz" | tar -zvxp
Note that the user specified by 'username' above should have read/write permissions on the directory where the backup is to be stored for this procedure to work.
The astute reader will probably notice the missing -f option, which one usually passes to tar. The reason for this is that it tells tar to write its data to, or read its data from, a file. However, by ommitting it, we tell tar to send its output to stdout, or to receive its data from stdin when reading from an archive, which allows us to make use of pipes. It's situations like these where the power of *NIX really shines!
james May 28th, 2008
Posted In: Backups
Tags: backup, bzip, bzip2, filesystem, gzip, partition, ssh, zip