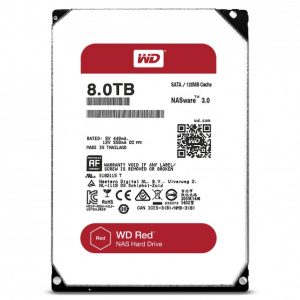 8TB WD Red and RedPro drives are now available in the dropdowns on all eRacks NAS Systems, and are available on select other eRacks systems, and of course all eRacks systems by custom quote –
If you don't see it on the system you want, just ask & we'll quote you!
j
joe December 3rd, 2016
Posted In: Backups, NAS24, NAS36, NAS50, NAS72, servers
Tags: Capacity, Drives, NAS, Storage, WD
This is what we've been saying for years now – that the best path to the cloud is to:

Own your core / foundation infrastructure and hardware, at least one server worth, and
Architect it properly with DRY DevOps best-practices and repeatability, to scale into the cloud as needed to meet spot demand
Here's the reference:
The Hybrid Cloud Helps Midsize Companies CompeteThis e-book is based on insights and recommendations by the Ventana Research, benchmark research report, "Business Technology Insights: Six Key Trends in Optimizing IT for Competitive Advantage."
Source: The Hybrid Cloud Helps Midsize Companies Compete: Networkworld White Paper
joe December 23rd, 2015
Posted In: How-To, servers, Uncategorized
Tags: Best-Practices, Cloud, DevOps, Hybrid Cloud
We were extremely excited to announce the forthcoming release of 500 Terabyte (half Petabyte) storage space upgrade on our flagship product eRacks/NAS50 cloud data storage servers last week.  The new model, to be released shortly, will incorporate 50 HGST 10 Terabyte HelioSeal™ hard drives.  While the new model is not released yet, we are accepting pre-orders from customers.  The current capacity, now available, of the eRacks/NAS50 is 400Terabytes in total, with currently-available 8Terabyte drives.
The new unit is rackmount and holds 50 removable drive bays.  The 9U unit is suitable for any cloud storage application as well as NAS/Local LAN.  eRacks/NAS50™ is also a great solution for media libraries and other applications which require massive amounts of data storage capacity.
Our new servers are truly a remarkable Petascale solution.  The HGST 10 Terabyte HelioSeal™ drives that come with eRacks/NAS50 use two technologies that greatly add to the value that this server carries with it.
The first is referred to as the HelioSeal™ technology.   The HGST hard drives using this technology replace the air inside of the drive with helium.  This would make the drive much lighter as well as allowing the disks to be much thinner.   Due to the helium inside, the thinness of disks will not cause any disruptive turbulence effects.  This will allow us to have more disks inside each drive which in turn means more data space.  Additionally, helium drives have much lower power consumption, as much as 27%, making our NAS50 models truly a green product.
The new drives in the eRacks/NAS50 servers also make use of a technology called SMR.  That is short for Shingled Magnetic Recording.  This technology by itself adds another 25 to 100 percent storage capacity to HGST hard drives.
We are proud of our new eRacks/NAS50 and are ready to take pre-orders.  We are prepared to customize the unit per your instructions with all Open-Source software necessary so your order will reach you completely pre-installed.
Please contact us for pre-orders or any questions you may have.
eRacks Open Source Systems
Phone: (714) 758-5423
Fax: (631) 392-9842
http://www.eRacks.com
eMail: info@eracks.com
Ron September 12th, 2015
Posted In: NAS50, New products, News, Open Source, servers, Upgrades
Tags: 500TB-class, 8TB, Archive Drives, Cloud Computing, Cloud Storage Server, HDD, HelioSeal. HGST, Hybrid Cloud, Internet, linux, NAS50, Open Source, Private Cloud, Rackmount, seagate, SMR, Storage Server
We can't help it with our innovations. Our NAS36 servers offered almost 200 Terabytes of data space already. That is considered quite high for a mid-range data storage server. But we just decided to jump even higher and exchange the standard 6-terabyte disks into 8-terabyte ones. That mean our NAS36 model storage servers are now able to hold 288 terabytes of data in total.
The new NAS36 model with higher data capacity brings even more value to our customers not just because of the storage space it provides but also for its price. Yes, we have decided to slash the prices down below $25,000. That is going to bring considerable saving to our customers. [UPDATE Sep 2015:  current price for maxed-out 288TB config with Seagate Archive 8TB drives is just under $22,000]
We are proud to announce this latest upgrade as we continue to provide petascale data storage servers at affordable prices.
We remain dedicated to open-source systems. We also remain committed to delivering pre-installed, pre-configured systems to our customers.
The NAS36 servers are rack-mount servers. We designed the 4U unit specially to hold large number of drives in a very limited space. That leaves ample amount of space for other necessary accessories inside your data center rack.
The 36 drives in the unit are all Seagate Archive Drives, mounted on a single backplane and controlled by a RAID controller. The unit holds 24 drives in front and 12 in the back making the unit case quite compact.
eRacks Systems is a leading provider of high-capacity, petascale data storage server solutions to companies and enterprises requiring massive amounts of storage data.
Our servers are suitable for Cloud Storage application as well as Near-Line Storage. They are also configurable for NAS (Network Attached Storage) applications.
For a great storage solution at a considerable low price, contact us. We are available through email, phone and our website.
Ron August 19th, 2015
Posted In: NAS36, New products, Open Source, servers, Upgrades
Tags: 288TB-class, 8TB, Archive Drives, Cloud Computing, Cloud Storage Server, HDD, Hybrid Cloud, Internet, linux, NAS36, Open Source, Private Cloud, Rackmount, seagate, Storage Server
eRacks Open Source Systems announces the immediate availability of the eRacks/NAS36 rackmount storage server, with 36 removable 3.5″ hard drives, which yields a maximum of 144TB (Terabytes*) of raw storage with current widely-available technology. The eRacks/NAS36 rackmount server is shipped pre-configured to the user's custom specs, with any available open-source software, and more flavors of Linux or BSD available than any other vendor.
Fremont, CA (PRWEB) February 14, 2014
eRacks Open Source Systems is pleased to announce theeRacks/NAS36 rackmount storage server.
Available immediately, it combines a rack usage of only 4U with a density of 36 drives (24 front and 12 rear), which, when combined with the current technology of widely available 4TB drives, yields a total storage of 144TB.
With the forthcoming 6TB drives from WD HGST, this will increase to 216 Terabytes*, giving a truly petascale solution in only 4U of rackspace.
This rounds out eRacks' line of rackmount multi-drive storage servers and NAS solutions, nicely filling the gap between the 24-drive eRacks/NAS24 and the all-front-loading 50-drive eRacks/NAS50, eRacks' flagship storage server.
When populated with 36 removable drives in only 4U, this represent a density / price breakthrough – using the best value (lowest price/TB) 3TB drives, this enables 108TB of raw storage in only 4U, and for less than $20,000, as configured on the eRacks website.
The unit is also available partially populated, at a reduced price, to make it accessible at a lower initial price, and the storage
 can be increased later by filling the empty drive trays.
It's signature service, eRacks will be happy to install any of the popular Linux distributions on request – Ubuntu, Debian, RedHat, Centos, Fedora, even the Arch Linux distro, which is growing fast in popularity, as well as FreeBSD, OpenBSD, or other Open Source OSes.
eRacks will also pre-install any open source NAS software, such as FreeNAS, OpenFiler, NAS4Free and OpenMediaVault, among others – and administrative dashboards and web GUIs are offered on most of these software choices.
Also available is best-of-breed Open Source software for BigData / Cloud storage, NAS, and networking – including Hadoop, MooseFS, CIFS, GlusterFS, etc – and eRacks is a partner with MooseFS.org.
In addition, the eRacks policy is to install any Linux/BSD distro or Open Source software on request – Contact eRacks today at info(at)eracks(dot)com to see how they can meet your needs.
*For the purposes of this press release, the term "Terabyte" is used to mean one trillion bytes – eRacks understands the issues about this, we are using the term as the disk drive and other industry manufacturers use it.
Regards,
Dennis
Dennis February 14th, 2014
Posted In: NAS36, Open Source, servers, Ubuntu 14.04, Upgrades
Setting up a server at home can be a rewarding experience. Not only does it make for an excellent experiment and learning experience, it also allows you access to your home network from anywhere in the world. You may be tempted to think that such a project would be time consuming and expensive, but actually the opposite is true. Today, the software required for running a server is relatively easy to configure. And, with open source software, a cheap computer and the right internet connection, you can be up and running with minimal cost.
The possibilities are endless with a home server. With an HTTP server like Apache (http://www.apache.org/) or Lighttpd (http://www.lighttpd.net/), you can host your own homepage, keep a remotely accessible calendar, share information with family, friends and co-workers or even experiment with your own custom web applications, with complete control over the software that supports them.
With SSH and/or FTP running on your server, you can gain access to files you have saved on your machine. What if you come to work and discover that you left an important Powerpoint presentation at home? No problem. If you have your desktop computer on the same network as your server, you can use Wake-On-Lan to power up your desktop, SSH to copy the file to your server and SSH or FTP to download it. Problem solved!
Today, with modern Linux distributions such as Ubuntu (http://www.ubuntu.com/), installing and configuring server applications has never been easier. With default configurations that work mostly out of the box with minimal tweaking, you can have a machine up and running in minutes. In addition, no special hardware is required. If you have a spare computer with a NIC, you have a server.
The only issue that could be an obstacle is your internet connection. First and foremost, you'll require a broadband connection such as DSL or cable. In addition, while not required, it's a good idea to get a static IP address if you can, which is just a unique identifier assigned to your network on the
internet that doesn't change. DSL Extreme (http://www.dslextreme.com/), for example, offers affordable static IP solutions to residential customers. From there, you would register a domain name and point it to your IP address, or get a free subdomain if you preferred.
If you can't find a static IP, however, all is not lost. Using a service like DynDNS.org (http://www.dyndns.org/), you can get a free subdomain name that can be automatically updated via your home network every time your dynamic IP address changes.
A home server can be a very useful thing to have, and is a worthwhile project, if for no other reason, because it's a good learning experience. eRacks can provide the hardware you need to get the job done, and can also offer consulting services for difficult software configurations. If you decide to take the time to setup a server at home, you won't be disappointed.
james January 19th, 2009
Posted In: servers, ubuntu, unix