Ubuntu 18.10, aka 'Cosmic Cuttlefish', is available now on all eRacks systems.
Ubuntu 18.10 'Cosmic Cuttlefish' supported with 9 months of security updates, bug fixes and select app upgrades. Users of it will be able to upgrade to Ubuntu 19.04 when it's released in April, 2019.
When the release of a new version as Ubuntu 18.10 'Cosmic Cuttlefish', the first question arrives in mind, "What are updated comparing with the current Ubuntu 18.04 LTS version?"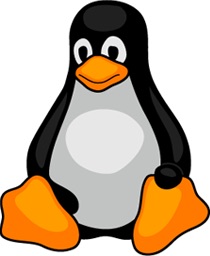 The most important update in 'Cosmic Cuttlefish' is, it has updated Linux Kernel. Ubuntu 18.10 has Linux Kernel 4.18. This Kernel version has some improvements for AMD and Nvidia GPU, USB Type-C and Thunderbolt, and performance optimizations in CPUfreq among several other features.
Another important thing is having faster installation and boot with new compression algorithms. Working with new compression algorithms like LZ4 and ztsd, 'Cosmic Cuttlefish' is supposed to have around 10% faster boot. The installation will be slightly faster as well. Which is definitely the good news for all Ubuntu users.
As always Ubuntu 18.10 will have this new GNOME version. Most of the visual and under the hood changes in GNOME 3.30 will be seen in Ubuntu 18.10 as well.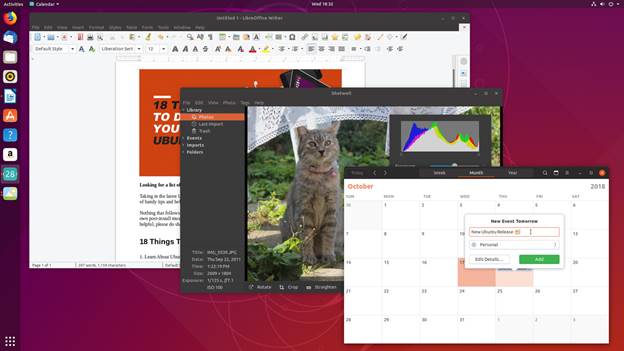 Taking cue from Fedora 28, Canonical is also working to improve battery life for laptops. Linux kernel has options to switch HDD controllers, USB controllers and other such devices to a low power state when not in use. This lowers the overall power consumption and thus improves the battery life.
Ubuntu 18.04 was supposed to have a new look with the community developed Community theme. This theme could not be completed in time for the 18.04 release. But Ubuntu 18.10 has it. The 'Cosmic Cuttlefish' has the Yaru Community theme installed by default, giving it a ravishing fresh look.
Some other changes in the Ubuntu 18.10 'Cosmic Cuttlefish' are as follows:
Support for fingerprint scanner.
Startup time boost and XDG Portals support for Snap applications.
32-Bit support diminishing from flavors.
UI and UX improvements to GNOME Software (possibility).
DLNA support for connecting Ubuntu with DLNA supported Smart TVs, tablets and other devices.
A new and improved installer (less likely to be completed before 18.10 release).
Ubuntu Software removes dependencies while uninstalling software.
Ubuntu Software will show a green verified tick for Snap applications developed by the owner of the brand. The same can be found on the recently redesigned Snap store website.
Ubuntu 18.10 'Cosmic Cuttlefish' is a modest update compared to 18.04. The vast majority of notable improvements are tucked away out of sight, 'under the hood'. Ubuntu 18.10 feels faster than 18.04, But you can't "see" the changes that shape Ubuntu 18.10 'Cosmic Cuttlefish', you almost certainly will feel them.
Asif Raihan October 24th, 2018
Posted In: Linux, New products, News, Open Source, Operating Systems, ubuntu
Tags: linux, New products, News, Open Source, operating system, ubuntu