Hello again.
It's Max, your favorite Op. Manager here at eRacks. Today, I am going to talk a bit about quiet computing, something eRacks knows a lot about!
In today's world, not every small business, home office, studio or gaming lounge has the ability to put up with what sounds like twin 747s taking off right next to you. However, proper cooling is paramount, and for some reason, quiet and cooling seem to be at opposite ends of the spectrum, much like chaos and order, orcs and humans, or tofu and steak.
Performance vs. Decibel Level
So, you ask, what can I do? You could buy low power embedded designs like Via, but then you sacrifice performance. You could buy liquid cooling, which we like, but there is a chance of it leaking if you decide to move it or if you don't take good care of the pump and tubing. By contrast, you could do what we do, which is to find the best components for the job. Unfortunately, I can't give all the company secrets — I would probably get punished by a very intimidating penguin (or spiky blowfish) if I were to spill the beans.

Specialized Low-Noise Components
However, I can provide some generalities. First of all, we have a great partner in SilenX that provides fans and power supplies with super airflow at a noise level that is almost undetectable! We also know the power of rubber, grommets and hard drive placement. Dual or triple layered walls and chambered chassis also help to reduce noise, and if you are really serious, use foam and vibration dampening.
Quiet and Overclocked ?
eRacks can help you avoid spending hours testing and retesting combinations of components, in your effort to achieve quiet computing. We may be one of the few vendors that is known for our customized quiet systems with overclockability, for rendering, gaming, simulation or studio work. Even, say, Quad-core CPU with SLI graphics (overclocked), yet still quiet? It can be done, and done well. Also, eRacks' cooling and quietization process is warrantied – Try finding that elsewhere – Not going to happen!
Lower Electric Bill
Added benefit: Quiet computers actually require less power and save money. Adjusting the voltage of certain components lowers the load on the power supply, which in turn lowers your energy bill.
Audio Bliss
In audio or production settings, any bit of noise or interference can turn a master work into something that goes straight to the trash. By quietizing your computer, you can avoid vibrations and fan noise that would otherwise make your Mozart sound like, well, amplified intestinal vocalizations.
Advancements in cooling, thermal wattage, performance and piping technologies have made it so that eRacks has perfected the art of constructing a quiet monster-gaming, or audiophile computer system. eRacks has numerous configurations, special designs and company expertise that gets it done within budget and exceeds expectations.
Silence, customized
If you have any questions or comments, want a more in depth idea about what we do, or if you have a configuration you think we can help you on, just let us know. I personally can help you out with whatever questions you have, and the rest of the eRacks staff is happy to discuss your options. Next time someone shows up at your LAN party with their dual CPU box that sounds like a tank rumbling over a heard of screaming shrews, just remember, eRacks can build a similar system that's quieter than a graveyard at midnight (which is where your opponent's avatar will end up when you no scope him from across the screen.) No hacks; just pure performance, cooling and engineering to provide you the very best in rendering, gaming and application-based work.
Max, signing out.
max October 7th, 2008
Posted In: Products, Quiet Computing
Hello everyone out in the blogosphere (Look my vocabulary improved!) Allow me to introduce myself. I am Max, the Op Manager here at eRacks. Now that that's out of the way, lets dig in!
I recently had the chance to lay my grubby mits on the latest ASUS eeePC, and am here to give my initial impressions. Now mind you, I am a very busy man (Darn starbucks being so far away!), so I only had a couple hours to play with this little PC, and I must say, I am impressed.
Now, Asus keeps a tight grip on the distribution of their eeePCs, and makes sure they get there asking price, so shopping around won't net more than about a dollar in savings. I will chalk that up on the bad side of things. However, while a little on the high end of the price scale, for its functionality, let me tell you something that makes up for that 100x: it works flawlessly, it's quick, and it gets a lot of looks (ladies, forget the new hairstyle. Pick up one of these bad boys and prepare for the geek onslaught!) The fact that I had no issues with it speaks volumes, because I always break something and have to have Tony, our Head Tech, come and save me.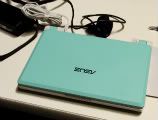 It also comes with all the software you would need: open source applications, games, and media playing programs preinstalled and ready to go. You do have to sit through a quick registration screen at first to get to this, but hey, you have to do that with everything. When I started this mini-beast up, I was pleased to see that everything displayed quite nicely on the 7″ 800×480 res. screen. It even comes with a pretty nice Intel graphics chipset to boot. So, as far as visuals go, while you wont be seeing HD style graphics, you will get a clear, precise picture that makes working on it pretty easy. Not bad ASUS, not bad… But you could, ya know, boost the res up to maybe 1200? Maybe…please? C'mon…
Anyway, this is not by any means a replacement for a full fledged laptop, but it is a nice miniPC that will come in handy for a quick write up at a trade show, a place to store a few pictures, a checking of websites or emails from the airport or any number of road-warrior-like activities. The other thing it's good for is KIDS! Kids love it; it comes in multiple colors, it plays games, it's small, it's neat, it makes noise on its 5.1 realtek HD sound card, it plays music AND it's cool looking. The only problem I see with kids and this is that on the models we got, the keyboard is white (wash your hands, children, before touching it), so beware of dirty fingers! We actually had a customer call us and let us know that their children were hammering away on these things and that they stood the test of time (at that point, 1 week. But hey, it's a miniPC and a child. Thats like platinum record status!) Another good feature is the card reader. This allows you to store plenty of files on the SD cards. Neat!
The few bad things I have to say are as follows: it only has 2 hours of battery life (I know, I know; laptops and such do not have amazing battery lives, but 2 hours?! I've had layovers longer then that on flights from OC to SF); it has no DVD or CD player, which is a bummer, even though I do understand that it's a different category of PC — I still want to be able to throw a DVD in or listen to a CD I just bought (ok, that may be a lie; who really buys CD's anymore, anyone? I admit it. I do. MP3's be damned!); the graphics could be a bit better and the white keyboard is a parents nightmare, although at least the keys are stuck close enough together that food can't hide in them. Overall, there weren't enough bad things to warrant a bad review, or to take away from the coolness factor.
In closing, I know this isn't as in-depth or as technical as some people would like. But hey, I'm Max, and Max is allowed to write what he wants (you love the 3rd person, I know it!) Overall, I give this 4/5 stars for a mini pc on coolness factor, and 3.5/5 on tech factor. Take my opinion with a grain of salt though, for I am just an Op Manager doing my thing.
For the techies, here's a rundown of the specs:
Processor: Intel Celeron

M Processor 353 (800MHz, 512KB L2 Cache, FSB 400MHz)
Chipset: Mobile Intel 910

GML Exp

ress
Memory: 512MB DDR2-400 Memory
Display: 7″ WVGA (800×4

80) TFT LCD
Graphics Module: Intel GMA 900 Graphics Controller
Hard Drive: 2GB Solid-State Disk

Optical Storage Device: None
Audio: Realtek ALC662 5.1-Channel High Definition Audio CODEC; Built-in Stereo Speak

ers and Microphone
Connectivity: 10Base-T/100Base

-TX Fast Ethernet; 802.11b/g Wireless LAN
Interface: 3x USB 2.0 Ports; 1x RJ45 LAN Port; 1x Headphone-out; 1x Microphone-in
Card Reader: SD Card Reader, Support SD/MMC
Camera: None

Battery Pack & Life: 4-cell 4400mAh Li-ion Battery, Upto 2.8 Hours Life Time
AC Adapter: Output – 9.5V, 22W; Input – 100~240V AC, 50/60Hz Universal

Dimensions (WxDxH): 8.86 x 6.46 x 0.846~1.4 inch / 22.5 x 16.4 x 2.15~3.5 cm
Color: Blush Pink, Blue, Green, White, Black
Weight: 2 lbs / 0.92 kg
Operating System: Linux
Visit www.eRacks.com for more info.
max May 2nd, 2008
Posted In: New products
Tags: Asus, laptop, linux, New products, Review